About Medicine Man Pharmacy
Our name, "Medicine Man", is the result of a compliment given to our founders during one of our favorite member experiences. While serving the needs of many of our neighbors, one shy little red headed boy would hide behind his parents when he came into the store. Like all children, he was curious and eventually would slowly peek out from behind his mom or dad to see what we were making in the pharmacy. On prompting from his parents to tell them who we were, this little red-head would softly say "The Medicine Man" – and that is how we chose the name!
A Medicine Man is a community builder, a teacher, a healer, an explorer-investigator and a spiritual leader.
Our original location was in Omaha Nebraska at 132nd and Dodge street. Since our inception in 1990 we have served over 200,000 individuals with our knowledge of medicine, great customer experiences and the medication and products we support! We have saved our members and their health plans millions with our commitment to managed care principles and alignment to curing our guest's illness and or ailments. We have now located at 15615 Pacific street and offer drive through window services for our guests! Over the years we have created a great alumni group of employees who stay in touch, collaborate with us and on whom we keep an eye on to watch their career paths and the legacy they create.
We have expanded to a second location in North Bend, Nebraska and hope to inspire others to join us as we develop minds, create cures and change the world of pharmacy as a Medicine Man!
Service Philosophy
The Medicine Man is committed to providing reliable, quality, cost-effective pharmaceuticals, efficient claims payment processing, and medication therapy management services in a professional, cheerful and efficient manner. Each employee plays an important role in the care and satisfaction of our clients treating them promptly and courteously.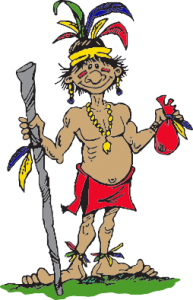 Our Logo
Our logo was inspired by the 1992 movie "Medicine Man" starring Sean Connery. In the story, there is the introduction of a character in the Amazon region that clearly demonstrates the connectivity a Medicine Man has to nature, science and faith. Yes, even Hollywood is intrigued by the impact on society that is made daily by the Medicine Man!
Within the logo graphic, each of the colored feathers in the headdress is designed to enforce our service philosophy:
Red – Reliability – depend on us to care for your health needs no matter how big or small
Yellow – Bright spot – we strive to bring a smile to your day
Green – Value – we put into practice everything possible to stretch every dollar you spend
Blue – Integrity – understanding the importance of an open and honest relationship with our clients
The healing staff our Medicine Man logo is holding signifies the support we offer the communities we serve; the bag he holds demonstrates "We've got your cure" – the graphic representation of the experience and knowledge behind each of the prescriptions we prepare for our clients.
Our Vision
We aspire to be the pharmacy provider confidently chosen by our clientele for their families' everyday health needs because our expertise, integrity and honesty consistently exceeds their expectations.
Our Mission
To improve the health and wellness of our clients through collaboration with other healthcare teams thus providing each client with the best products, services, outcomes and advice to meet their unique healthcare needs.
Our Core Values
We foster a shared passion for the needs of the injured, sick and disadvantaged. Our team provides the highest level of integrity, honesty, focus, appearance and appreciation in our deep commitment to our customer's needs.
"Science without religion is lame, religion without science is blind!"